How Does Alcohol Abuse Affect the Body?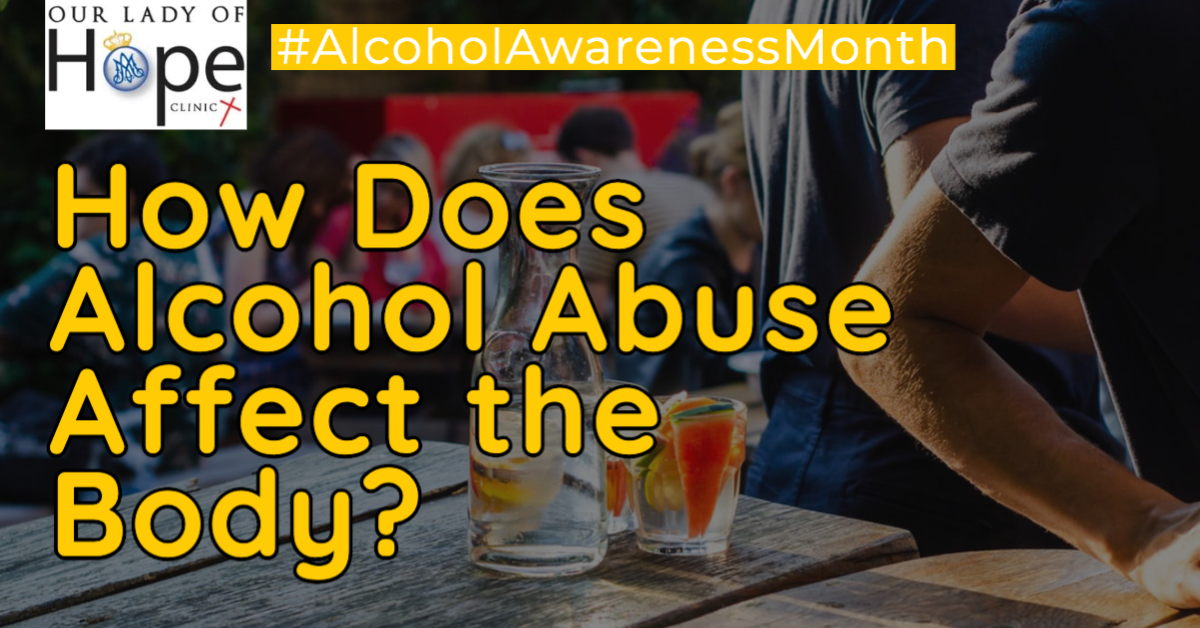 April is National Alcohol Awareness Month. Here at Our Lady of Hope Clinic in Madison, Wisconsin, we are dedicated to providing you with quality primary care to help you lead your fullest life. If your own habits or those of a loved one have you wondering how alcohol abuse affects the body, read on to learn its damaging effects and how you can get help.
Effects of Alcohol Abuse:
Heart
Liver
Immune System
Cancer
Where to Find Help
Heart
Beyond the emotional pain caused by your or your loved one's bad behavior from drinking, long-term alcohol abuse has serious physical consequences for the heart. Alcohol abuse can cause heart attack, stroke, high blood pressure, and irregular heart beats called arrhythmias. It also can cause cardiomyapathy, a disease that makes it harder for the heart to pump blood to the rest of the body due to the enlargement or thickening of the heart muscle.
Liver
Drinking is known to adversely affect the liver. When you drink, most of the alcohol is metabolized by an enzyme in the liver cells. When drinking becomes excessive, problems such as steatosis, or fatty liver, appear. These pockets of fat within the liver impede the liver's functionality. Overdrinking can also cause liver scarring known as fibrosis, which can lead to cirrhosis. Cirrhosis occurs when large amounts of normal liver tissue are replaced by scar tissue, also impairing the liver's ability to function.
Immune System
Drinking also impairs the function of the body's immune cells. Even a single instance of overdrinking can make you more susceptible to becoming sick for as long as twenty-fours after the episode. Due this suppression of the immune system, chronic drinkers are more at risk of contracting diseases like pneumonia, tuberculosis, and HIV.
Cancer
Chronic drinkers are also more likely to get cancer. The more people drink, the more likely they appear to be at risk of developing breast cancer, colorectal cancer, esophageal cancer, head and neck cancer, and liver cancer. More evidence is mounting that alcohol consumption might also be related to increased risks of melanoma, prostate, and pancreatic cancers.
Where to Find Help
Alcoholism is very difficult to treat on your own. If you are struggling, please seriously consider finding a support group or treatment program. Alcoholics Anonymous, for instance, has been shown to be successful in helping some of its participants achieve long-term sobriety. AA has several chapters throughout Wisconsin, including in Madison.
If we can help you connect with sobriety assistance or treat any primary care concerns you have relating to alcohol abuse, please don't hesitate to call our office today. Our Lady of Hope Clinic offers direct primary care services in Madison, Wisconsin.
Patron Saint of Alcoholism
St. Monica was a fourth-century Catholic saint from present-day Alergeria who also struggled with alcoholism. Learn more at: "5 Facts About the Great St. Monica That Will Inspire You to Never Give Up Hope"
How Does Alcohol Abuse Affect the Body? Brought to you by Dr. Mike Kloess of Our Lady of Hope Clinic