What's the difference between a cold and the flu?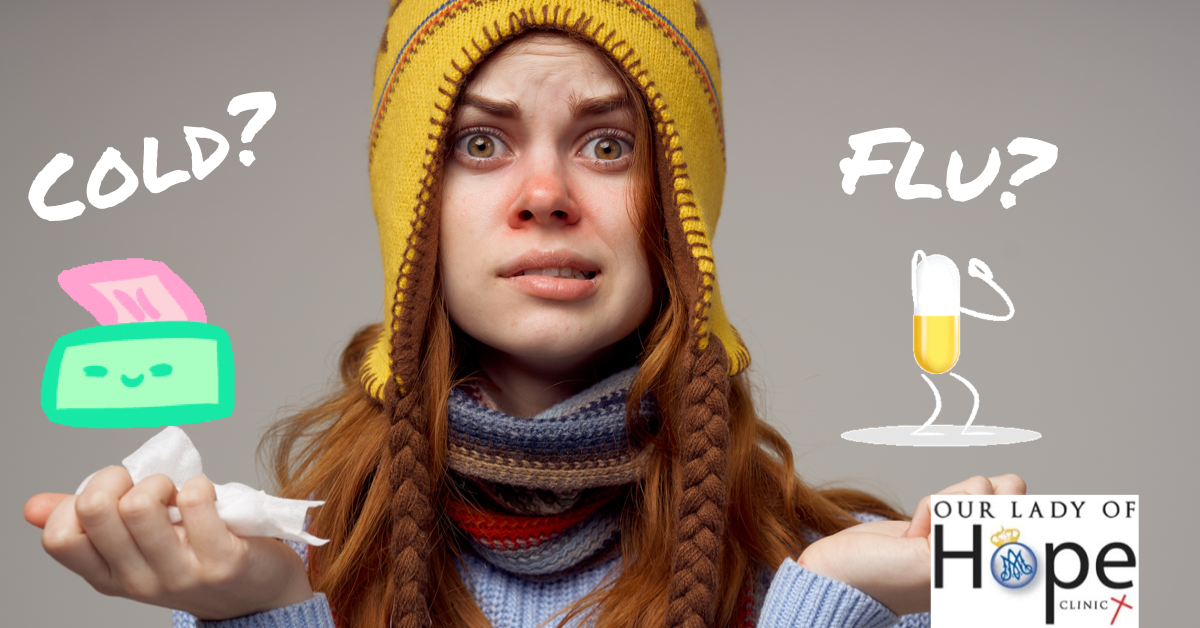 Just when you thought the Wisconsin winter couldn't get any longer, illness strikes your household, bringing a whole new meaning to cabin fever.
You and your family have sore throats, coughs, and body aches. An upper respiratory illness has turned your family life upside-down. Is it just a cold or something worse?
If you've been wondering what's the difference between a cold and the flu, here's a quick guide to the symptoms of each, their treatment, and when to call the doctor.
Cold vs. flu symptoms
Illness and recovery time
Treatment
When to call the doctor
Cold vs. Flu Symptoms
Because both the common cold and the flu are respiratory illnesses, they have similar symptoms that make it a little tricky to tell the two apart. Early on, only a flu test at the doctor's office can confirm for sure.
Generally speaking, though, the flu has more severe symptoms and may include fever, vomiting, and diarrhea, unlike a cold. The flu is more likely to cause serious complications, such as pneumonia and bacterial infections. Colds, on the other hand, usually result in more sneezing and stuffy or runny noses than the flu.
People with colds experience: stuffy or runny noses, cough, discomfort in the chest, sneezing, and mild fatigue and body aches. People suffering from the flu experience: fever, chills, body aches, significant fatigue, sore throat, cough, and headaches. Some people with the flu, especially children, might have diarrhea or vomiting as well.
To see cold versus flu symptoms at a glance, click here for a helpful infographic from the Centers for Disease Control and Prevention.
Illness and Recovery Time
The cold and the flu are both caused by viruses. Cold symptoms build slowly and may last between seven and ten days. Flu symptoms begin suddenly a day or two after exposure to the virus. Although the fever may only last three or four days, accompanying symptoms can linger for almost two weeks.
Treatment of Cold and Flu
Is it: feed a cold and starve a fever? Or feed a fever and starve a cold? And why are we starving people?
As the saying goes, there's no cure for the common cold. You can take steps, however, to alleviate congestion with warm compresses and saline drops or sprays. A sore throat, headache, and cough can be eased with acetaminophen or ibuprofen and over-the-counter cough and cold medicine. Lots of rest and fluids will also help get you back on your feet.
For generally healthy individuals with the flu, rest and home care are often enough to weather the illness. Ibuprofen or acetaminophen may be used to help bring down the fever. Plenty of rest and withdrawing temporarily from normal activities will also help your body fight the virus.
In either case with the cold or the flu, no starving is necessary!
When to Call the Doctor
If you or a family member has a cold, you should call the doctor if the symptoms have lasted for more than ten days or are strange or severe. You should also seek medical help if your child is under three months old and has a fever.
In the case of the flu, some people are more susceptible to developing further complications. These include: young children; people over the age of sixty-five; pregnant women; and individuals with a compromised immune system, asthma, heart disease, diabetes or other medical issues. If you are in these high-risk categories and suspect that you have the flu, make sure to be seen by your doctor. He or she may prescribe an antiviral drug to lessen the duration of your symptoms and prevent further issues, such as pneumonia.
Dr. Michael Kloess of Our Lady of Hope Clinic
Our Lady of Hope Clinic offers a family practice clinic where families can feel safe and respected. The providers of Our Lady of Hope Clinic welcome the opportunity to discuss with the patient faith issues and how the patient's faith can impact their health.
Dr. Michael Kloess practices medicine that is consistent with his Catholic faith, while remaining committed to serving patients of all faiths.
"As a father of seven, I know how disruptive illness is to the family routine. If you or a family member are seeking relief from cold- or flu-related symptoms, please contact me so that I can help you get back to your normal activities as soon as possible." -Dr. Michael Kloess
If we can help you find relief from the cold or flu, please contact:
Our Lady of Hope Clinic
6425 Odana Rd, Suite 13
Madison, WI 53719
608-819-8544
Prayer for Healing
Lord, look upon me with eyes of mercy. May your healing hand rest upon me. May your life-giving powers flow into every cell of my body and into the depths of my soul, cleansing, purifying, restoring me to wholeness and strength for service in your kingdom. Amen.